The Add Document page allows the creation of a new document based on a selected template. It can be accessed through the New Document links, through the template page or by creating a new document for a client. If the New Document page is accessed through the template or client page the Template / Client fields will be automatically filled in.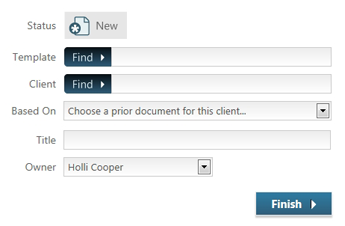 To create a new document:
If a template is not selected, enter the template name into the field. Templates can also be selected from the template list in the panel to the right of the page. To aid the searching of templates the tag filter can be utilized by clicking the left arrow which will display a list of all the template tags.

A client must then be selected. A client can be selected from the client list displayed or by

creating a new client.

You can view the filter options for the list of clients by clicking on the left arrow.

The 'Based on' field is set to base the document on a previously created document for that client. Alternatively a HotDocs Answer File can be uploaded to populate the interview answers.

A default document title will be generated from the template and client names but this can be changed by editing the title field.

By default the Owner is set to the currently logged in user but this can also be set to another user.

Click the finish button to generate the document.