Return to Index
Template Group Help
You can group together templates and assemble the documents in series. To do this you will need to create a Template Group.
Create a Template Group: To create a new template group click the "Create Template Group" button on the taskbar of the Template tab.

At the New Group page you can enter a Name and Description for your group. Then select the templates you wish to add, either by searching the template list to the right or by entering the template name you are looking for in the Search box to narrow down the results.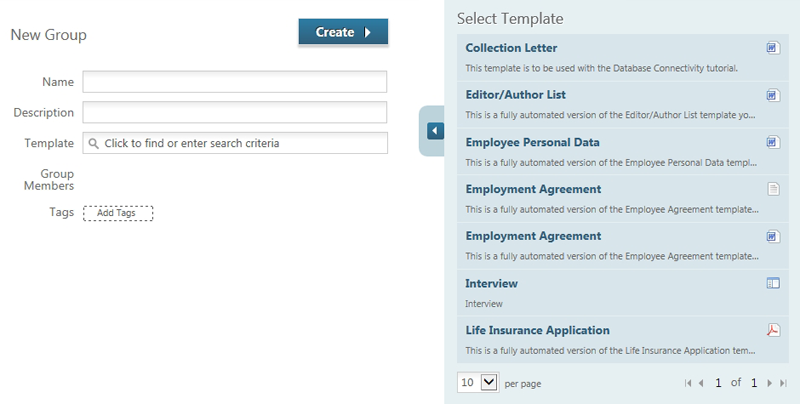 Once you have selected your templates they will appear in the Group members list. You can use the arrows to scroll through this list and the

button to remove any unwanted templates from the group. Note: This action will only remove them from the group, not delete the template itself.

Add Tags to a Group: Document Services will automatically add any shared file type tags to the group. To add further tags, click the Add Tags link. Available tags will appear in a list on the right of the page. To learn more about creating new tags see Tags.
When you have finished adding templates and tags to the group, click the

button.
Assembling a template group: Your newly made group will now appear in your template list with a

icon. Then you are asked to select a client in the same way you would for any new document. See New Document.
After you click the Finish button you see the Document details and a list of interviews to be completed. Interviews are listed, and documents are assembled, in the order they were placed in the group.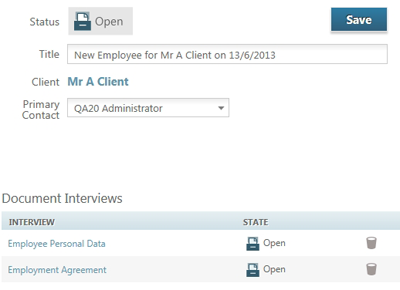 Select an interview to complete and answer questions as presented. See Interview Help for more information on filling in an interview. Once the first interview is complete you will be given the choice of re-opening the interview to change an answer, moving on to the next interview in the group, returning to the document details page, or downloading the document you have just assembled.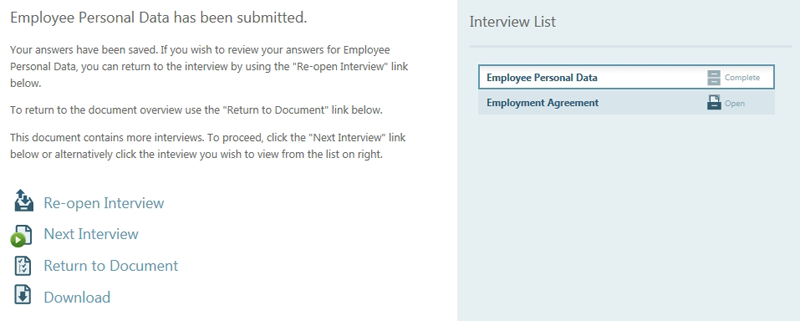 Select 'Next interview' and continue filling in interviews until you have completed all the documents you require from this group (you do not need to complete every document in a group). You will then be returned to the Document Details page where you can choose to download the finished documents.